About Us
Founded in 2011, GT OmniPort is a logistic centric industrial park, targeting manufacturing, warehousing and petrochemical businesses. The development is located in Port Arthur, TX, and is unique due to its size and its breadth of services. The logistics services are supplied by GT Logistics (GTL). GTL offers rail, barge, ship, pipeline and truck transloading services as well as product storage. These services are supplied to all buyers at GT OmniPort regardless of whether they lease or own property within the development.
The tracts available can be served by rail, truck and pipeline and has access to barge and vessel docks.
Situated on approximately 1,120 waterfront acres in the heart of the Port Arthur energy complex, less than 2 miles from Motiva and Valero refineries.
All requisite permits in-place, allowing for immediate market access; replication of OmniPort's logistical capabilities could take up to 18 months to complete.
State-of-the-art rail terminal with 158,000 barrels per day of transloading capacity with 120 loading and unloading stations.
Access to substantial pipeline connectivity potentially linking OmniPort's logistics operations to area refiners, storage and chemical plants.
3.5mm barrels of storage
Onsite barge terminal with 2,500 feet of frontage along Taylor's Bayou is capable of handling four barges simultaneously and provides access to the Intracoastal Waterway ("ICW").
45 acres of deepwater dock space with 3,800 feet of frontage providing for berthing of one Aframax, two Panamax and two ocean barges.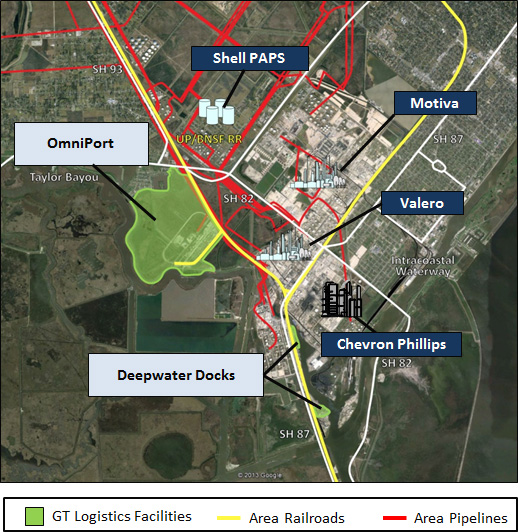 This exceptional site is strategically located 85 miles east of Houston on Taylor Bayou adjacent to Port Arthur. Comprised of 1,200 acres of prime available acreage inclusive of utilities, the site's existing infrastructure is ideal for logistical oriented industrial uses. Manufacturers, fabrication, distribution, aerospace, high-tech, and petrochemical projects would benefit from the site's ability to facilitate virtually all modes of logistic requirements with speed and efficiency.
GT OmniPort has become an incubator of the Energy Transition Industry. GTO is attracting industries such as:
Renewable Diesel Refining
Sustainable Aviation Fuel Refining
Carbon Sequestration
Chemical Plastics Recycling
Green Hydrogen Production
Blue Ammonia Production
Green Power Generation
The existing logistics infrastructure improves project economics for these smaller specialty plants.
The site has superior direct passage to major transportation thoroughfares, including shipping gateways via the Sabine Neches Waterway; two mainline rail lines; TxDOT highway; intracoastal waterway; air transportation; and pipeline distribution systems. Its location provides immediate access to the world's largest concentration of petrochemical, manufacturing, and research facilities.
The Port Arthur area is experiencing unprecedented growth with $12B in expansion currently underway.